It has been a long time since I'd been to Narciss, although this wasn't exactly in the same capacity.

First band up was OZxBONE, traditional thrash metal but silly. Their guitarist is a ridiculously nice guy who I got to talk to a little bit.

The second band was Despair and they were high school kids or something and I didn't even watch their rehearsal.




Larme D'ange
is from Osaka and really talented. Friends of mine who came to the show said that this band had the best vocalist of the evening. Another of my friends was blown away by their guitarist Hiiragi. The other guitarist seems to be going to America all the time so it was a bummer to miss him as I would have liked to have talked a little bit. I only watched a little bit of their rehearsal, though. Still, backstage they were very polite to me.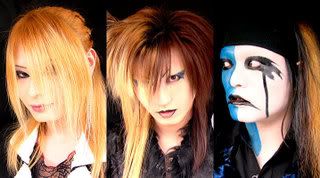 CKroll
went after them and I only watched a little of their rehearsal too. The blue dude is a nice guy in person; greets you with a loud voice and a smile.
The last band of the evening was a Luna Sea cover band with a cute chick drummer. They didn't do the covers poorly, but they didn't do them super awesomely or anything. They were an above-average cover band; what I mean by that is that when they play the songs they sound fairly faithful to the original and you're glad you heard a good song. I tend to like cover bands that do weird, gimmicky stuff with the material: Richard Cheese is one, but more recently The Dan Band has totally wowed me.
The fifth band was--
--okay, I have a confession.
I've been lying to you for a few months.
Well, not really
lying,
per se, more like
withholding information,
and from the looks of things, withholding it poorly.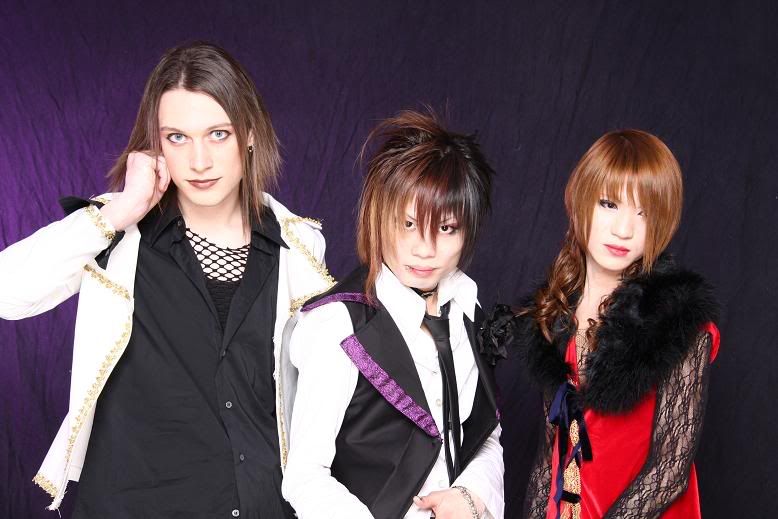 The fifth band of the evening was
LAVERITE
.
They're pretty good. I mean, it was their first live. The guitarist, Ryota, is very talented, though, with a strong ear for a pleasant guitar solo; sometimes with a focus on technical flair and mostly with an emphasis on melody. They seemed pretty nervous, though; Ryota didn't move all that much and Yue, the vocalist, did his best to make up for it and largely succeeded. Helping them out on bass is Jimi, and he had a good amount of energy and is one damn fine bassist but it was pretty obvious that he hasn't played live in a few years.
The samples on the site aren't that hot, and Jimi's bass tracks aren't even on there as the recordings were made before he joined but the CD was printed up after he joined. And they aren't the two songs he would have picked from their repertoire. Still, they did a respectable job. They had 20 or so people come to see them and while there were only 3 or so people at the very front, people seemed to be enjoying themselves. The anquette box was filled, and while no photos were sold, they seem excited about their next free live at Narciss on 3/5. Personally, I'll be attending every single Laverite live from here on out.
Here they are on
visunavi
too. :)
Tomorrow I'll start telling a more detailed story of Laverite.