Phantom Avenger were really young dudes, Denial were tightly-controlled, well-played 7-string heaviness, and Mei was Osaka-funny, with the singer going out into the crowd to have a smoke during a prolonged instrumental section. Antikythera I didn't see, because WE WERE NEXT.


For free lives at Narciss, order is decided by a combination of rock-paper-scissors and drawing straws. Among us, Yue lost so he had to be our representative. Each of the other bands' representatives got around and decided the order to draw the straws with janken as well. Yue won this time, so he got to pick first, and he picked number 2. As long as it wasn't number 1, we were happy.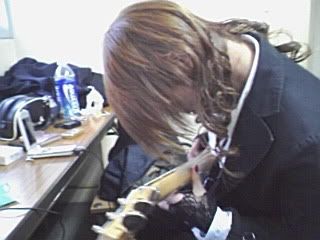 We pulled in twenty or so people who came just to see us; of those, six were my crew. There were three people from my house (two who had also come to my first live), two girls I used to go to lives with whom I hadn't seen in quite awhile... also, Inertia came but I was
such a jerk
and forgot to put her name on our final
yoyaku
list!! >_<
Yami Yume
also dropped by after a long hard day of actual work and ended up missing our set for reasons outside anyone's control, but still I was very glad to meet someone new and thankful that she and of course everyone else took the time to come out to see me.
As for the show itself, we were so much better than the first show. Ryota moved a lot more, Yue's personality started to show, and I was groovin' as usual. We had three full rows of people in the very front (not counting the people standing in the back who were also doing the hand motions that are a sure sign that they're enjoying us), and they were going pretty wild, especially for Ryota.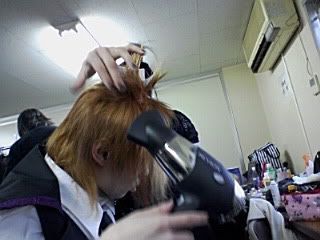 Tonight, Ryota got a new nickname: Ryoko-tan, which is of course a play on Shoko Nakagawa's nickname, 'Shoko-tan'. Ryota's a fan of hers so he rather likes it. He is far and away the most popular out of us three: even on several of the questionnaires, there would be no messages written in the spaces for Yue and me, but lots written only for Ryota. To be perfectly honest, I rather like it this way. Yue can chat people up very well so he plays mock-wounded that Ryota gets so much attention, and I'm still too busy standing wide-eyed at our table, absorbing all the craziness.
My favorite questionnaire of the night was Inertia's, by far; she said she enjoyed the set as a whole (god bless her) and that of course there's room for improvement and listed some great things we could work on. The other guys were pleased that we got something like that: too often those that write questionnaires for us are die-hards so I feel as though I am being given little indication of what we're doing right or wrong. I mean, I like all the fluffy nice messages, too, but y'know, I like to know how to suck less. :)
Ryota's a huge Lareine fan, as is Inertia, and after we got offstage, Ryota looks at me and says, "That girl! On your side! Who is she? Is she a friend of yours?!"
Me: "Calm down, man; yeah, she is. Why?"
Ryota: "I've seen her at Lareine events and stuff! I wanna talk to her!"
So I introduced them and then Ryota totally clammed up because he's ridiculously shy but was clearly happy to be talking to someone that shared his interests (he wrote about it on his blog too).
The whole evening had a very good feeling. After we cleaned up, changed, and packed up, we went down to the office to take care of money stuff. Free lives are really pricey for the bands, but lots of people come and apparently they're highly desired, so they can be difficult to book. The Narciss staff was really impressed at the fact that we had the most fans come out that night, surprised at their reaction, and surprised that they were all so pretty. They also said that LAVERITE fans have the best manners. :)
And then they finally noticed that maybe I'm not Japanese, and Yue told them that I'd done some modeling (an over-exaggeration if I've ever heard one), and they looked at me and just said "ah,
yappari
". Whaddya mean?! >_>;;
Our fans
are
an attractive bunch, though! Although our fans are Ryota's fans, mostly. He's our draw. That's fine by me! I kind of like being in the background right now... I still need to observe, and learn, and listen. I'll be making minor adjustments to my costume in the coming weeks, and I've GOT to do something non-crappy with my hair, and work on makeup, and basically suck less as a whole.
Next live is 3/29... EIGHT bands, with Byakura and us being definitely the biggest reasons to come. ;)