I'm very sorry for the delay, folks-- My cousin was here until a few days ago, and since then I've been plowing through work, planning out a cool interpreter position, and other things that have to do with being a superhero.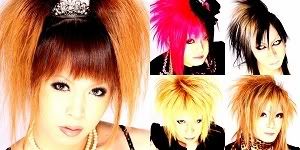 On the 1st, we played with
Oshare Dorobou
, who have some catchy tunes and a very interesting and very funny vocalist, Miyuu. He came down to the backstage area just before we went on, gave us free copies of their new single, and then handed me his business card. I gave him a copy of "Rosemary" and my card as well. We're buddies and hung out last weekend for some drinks and it's nice to have made a new friend.
We also played with OZxBONE again, who are down to three, but somehow they seem way tighter as a three-piece. It's been cool getting to know those guys more and more as we keep playing with them.
There was also Murasaki, who are really nice dudes and reminded us of Sid, in a good way. (I'm one of those guys that likes Sid, okay?)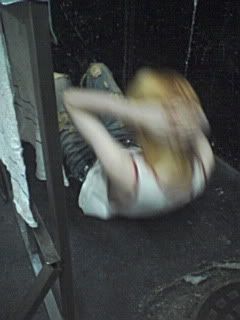 Yue overslept because of a dreadful work schedule and therefore we couldn't draw straws for performance order, and we had to go first. I didn't really mind, and Ryota was only slightly peeved, but when Yue finally showed up he felt the need to do a bunch of situps as a penance.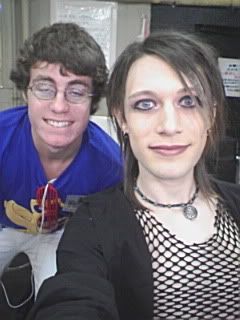 Me and Henderson, who never really quite figured out the timing on my camera.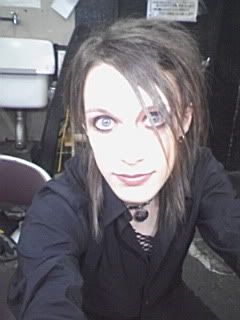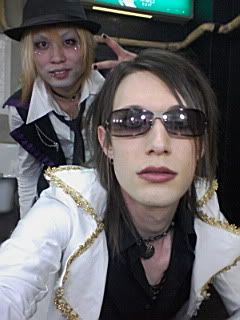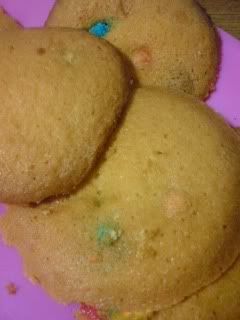 Alicia came and gave us
home-baked cookies.
And they were delicious. And not just because of the M&M's, or because of the home-bakedness (although that was certainly a factor), but because of the LOVE AND COMPASSION that made every last morsel moist and chewy. Like cookies should be. She joined the elite inner circle of People Who Gave Us Stuff and Really Didn't Have To, and It's such a blessing to have people like that, to help make you feel like you're doing something right.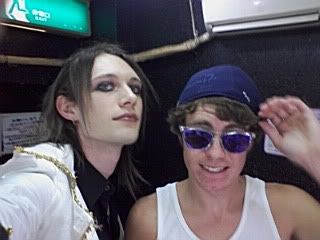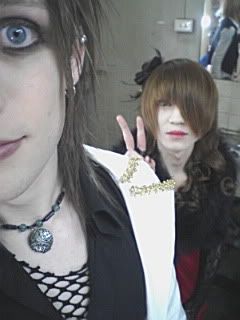 Other than those three bands, I have a really hazy memory of who else played, so I'm really sorry.
Henderson took a lot of pictures too, and you can click on them for big:
First, a few from the studio: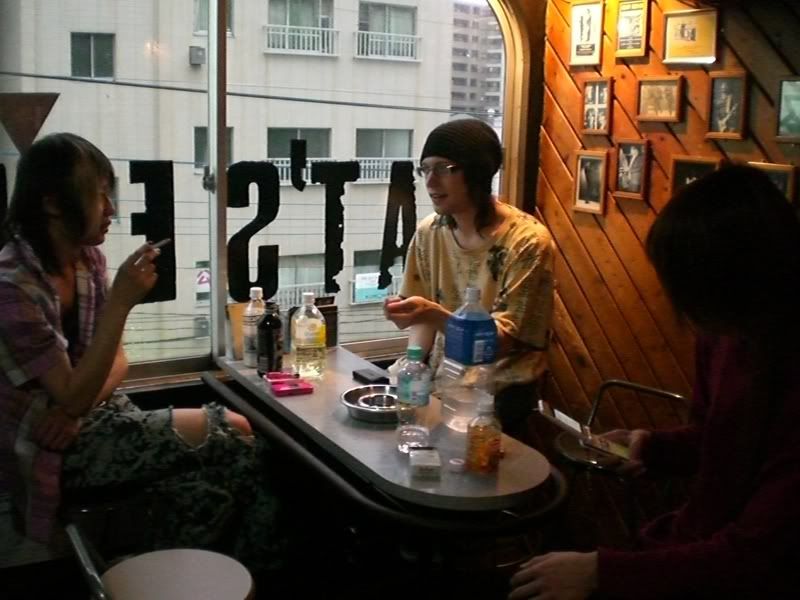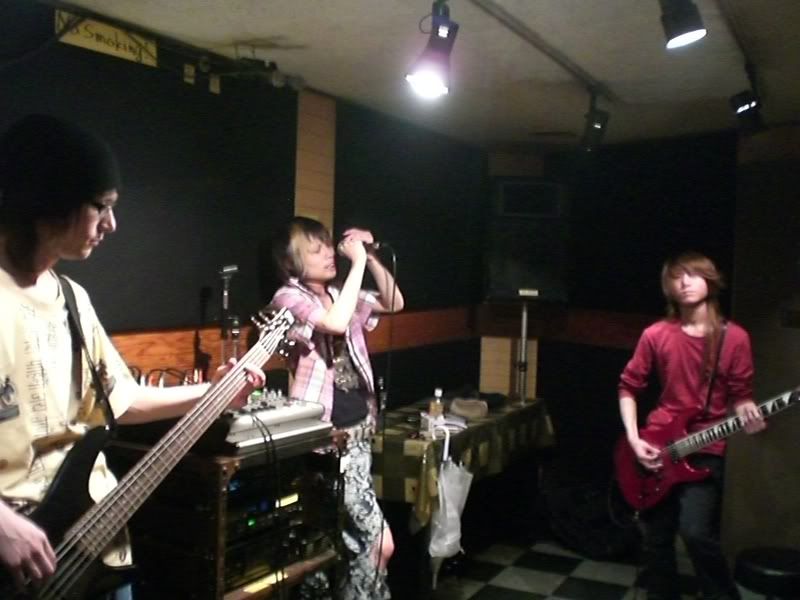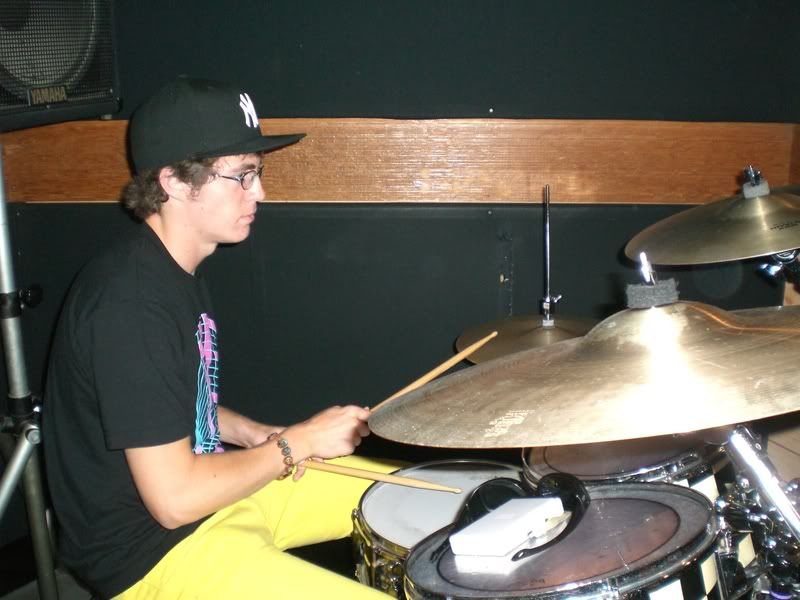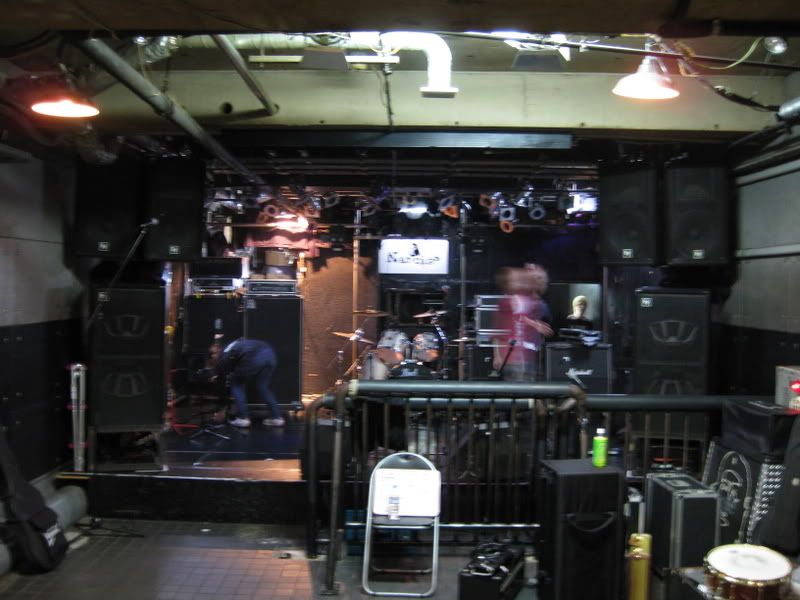 Backstage, just before going on: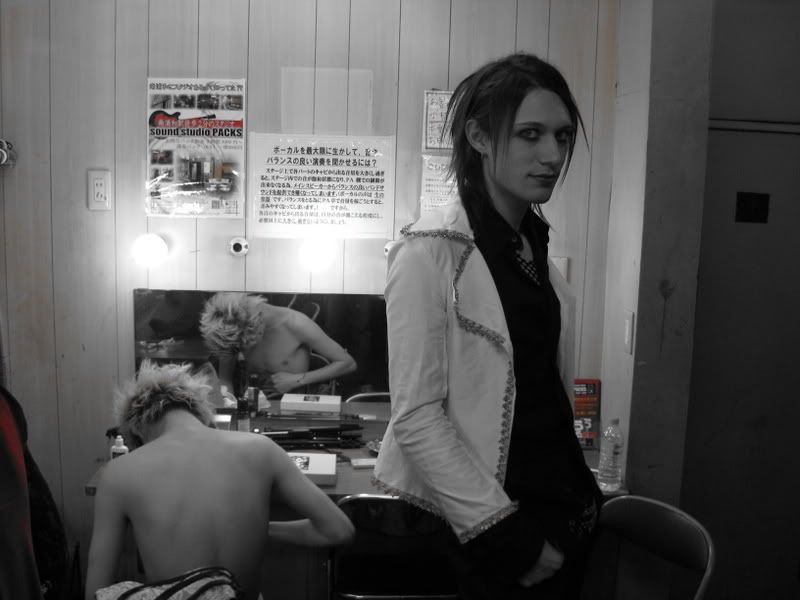 Waiting for us to come onstage: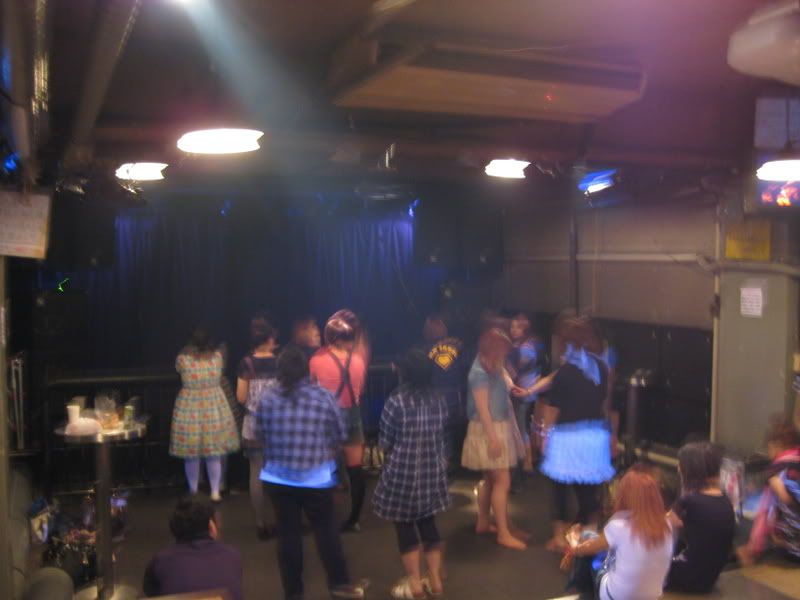 LAVERITE performing: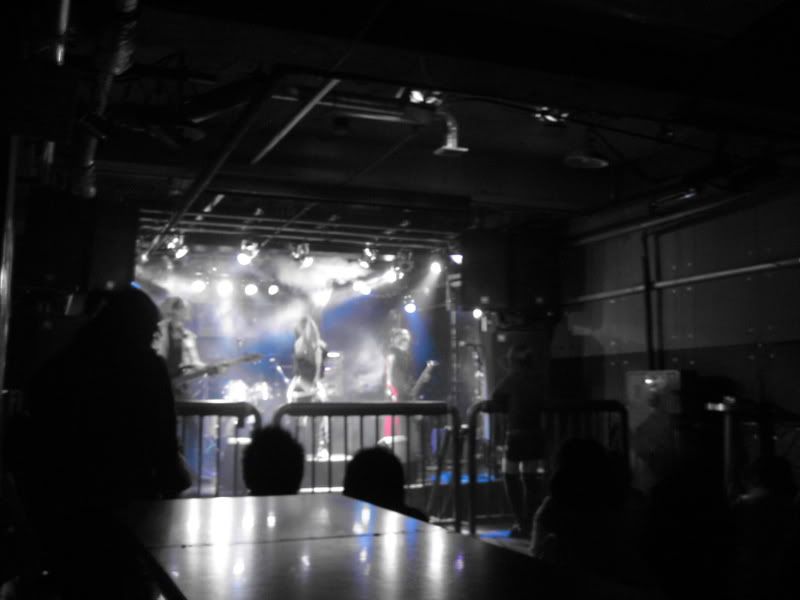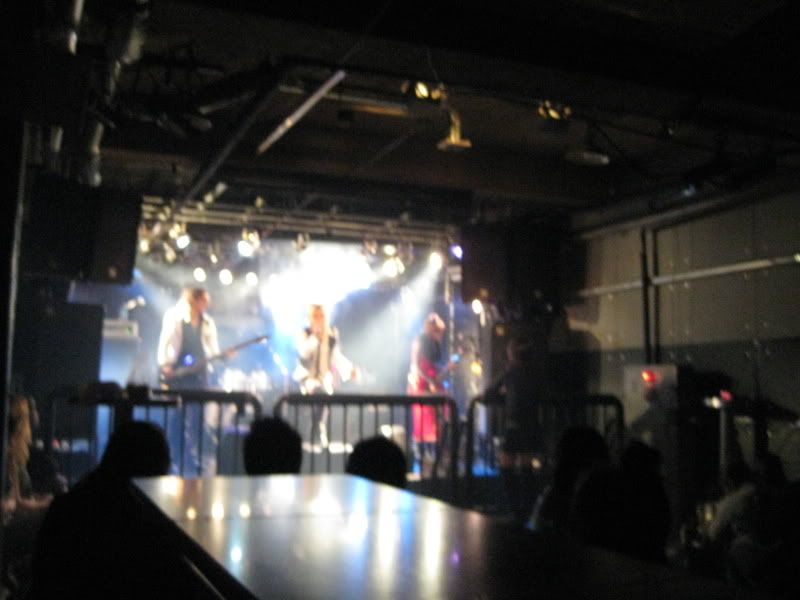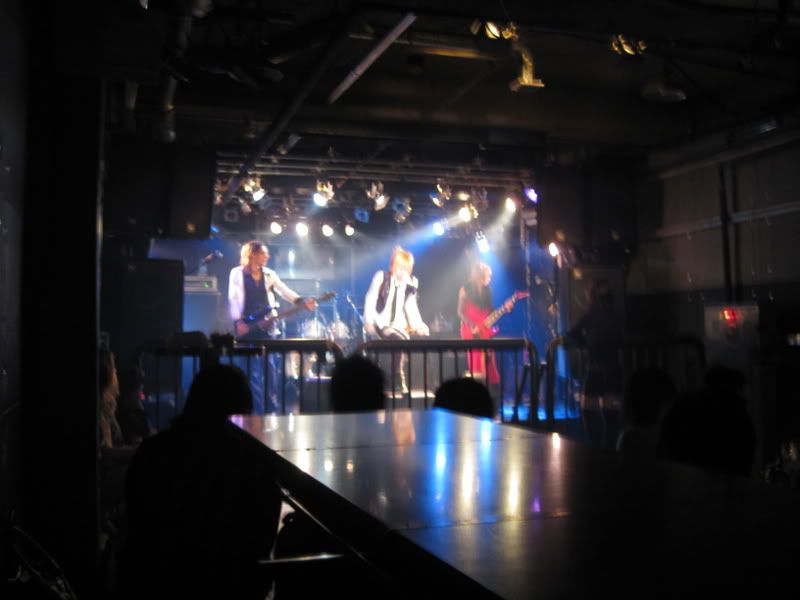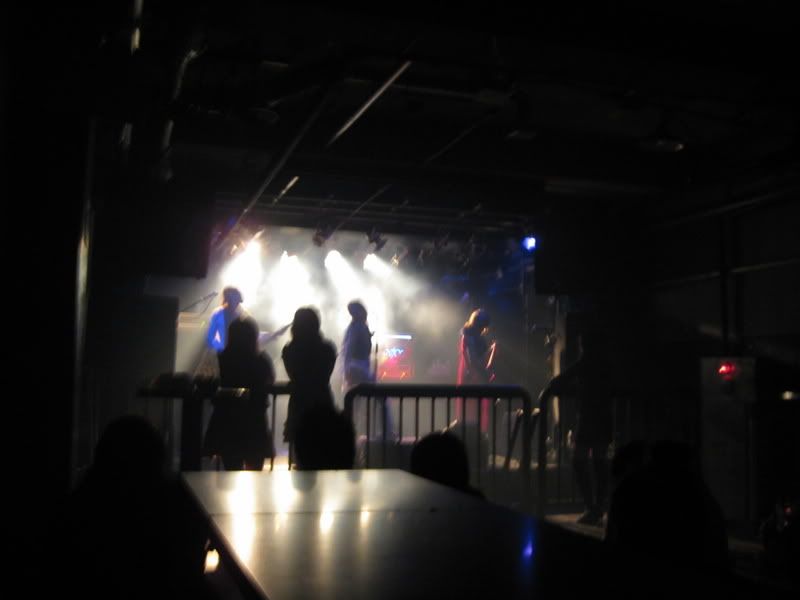 OZxBONE: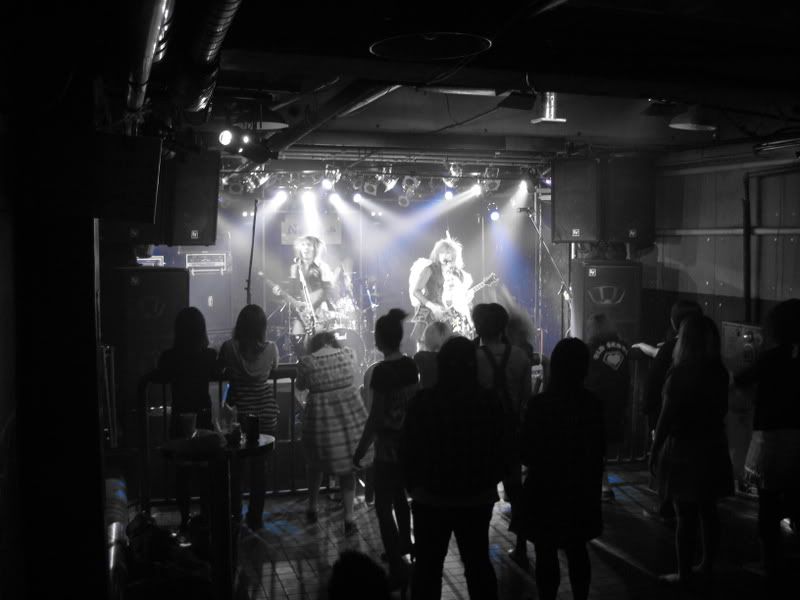 Henderson was a real help, carrying equipment, being someone to talk to to while away the long hours, and he got a bit of attention on his own. I'm glad he took some photos, and though the scene is certainly not his scene (he's much more of a high-end street fashion/hip-hop kinda dude), he said he appreciated the experience.
Some of my housemates were cool and went various places with us to provide him with some contact other than just me.
And us at the airport just before he went through security :(

SO. Here's our live schedule so far:

7/26, 8/8, 8/24, and 8/31 at Narciss; 9/24 at Area; 10/5 and 10/19 at Narciss again, and I'm secretly and selfishly hoping that some fan in October knows it's my birthday on the 8th and says something. :)

That magazine goes on sale in a week or so, and there are a few other things coming up.

And check out this lineup for 7/26! LAVERITE, Byakura, Oshare Dorobou, Cinema Strip, Ibaraki Akudou Chaban Gekidan Cheeky, Murasaki, Cloche, and Jackall. Eight bands, which is insane, but it should be crazy cool.

Thanks for all the emails and comments and just generally being way nicer than y'all are obligated to be. :)