Saturday was a long night that started off quite promising when this arrived at Narciss: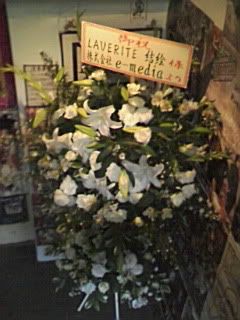 Yue's company had sent that to us, and it was beautiful, smelled wonderful, and caused a bit of buzz.
We
were scheduled to go first, so I took the opportunity before we went on to do a little video interview:
Yue and Ryota have been ill with Bubonic something or smallpox maybe, and it really showed in their performances. I tried to make up for things, but that can be tough on your own. The crowd was a little less energetic than we've had in the past, but honestly as long as there are smiling faces I'm more than pleased.
In fact, Alicia and a friend were there, which was just so awesome! She and I have been to many-an Exist Trace live and it's always good to see her. Also in attendance was blog commented Lisa who is now officially the coolest Rock Japan Elec-tric reader (although I welcome other contestants). She is just here
on vacation
and she managed to fit in a dinky little Laverite show in between stuff like, you know,
Dir en grey
and
D'espairsRay
and stuff. I cannot bow low enough to express my thanks to those who have and who will come out to support me, and often more than once! It was great meeting her finally.
After us was
Rakan
, whose drummer took a liking to me and especially my staff girl, and at the end of the night after I'd washed off my makeup
finally
noticed that I was not Japanese. I don't look Japanese in the slightest so I'm constantly baffled as to these band guys' reactions. Maybe just because we all look so funny to begin with.
Anyway, from the brief bit of their set I saw, Rakan was a bundle of energy. I was envious.