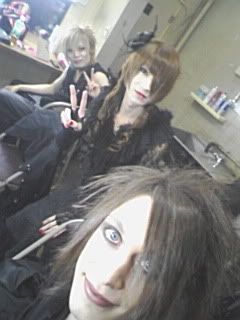 For our 2nd live in October, we all decided that we'd wear something a little different. We only had two lives left for our current lineup, so we didn't mind experimenting.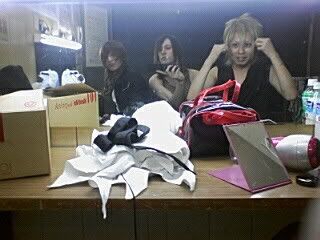 Yue went with a black zippered vest, Ryota went with his old black costume, and I went sans white jacket, darker makeup, and much bigger hair.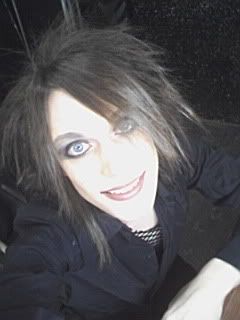 The show itself went very well, but because the set list was all our more energetic numbers, it felt like it was over pretty quickly. And then of course was our big announcement.
Just before our last song, Yue told the audience that our next live, 11/23 at Narciss, would be his last as Laverite's vocalist.
I always used to sort of scoff skeptically whenever I read that a member was leaving a band because of "musical differences". However, when Yue mentioned for the first time that he was thinking about leaving back in September, it was clear that he was having a very hard time reconciling how much he enjoys playing with Ryota and me, and the kind of music he would actually like to do.
It was clear that he was struggling with it, as he and I had grown pretty close and were better friends than ever. He thought that I would be sad or upset or angry or something, and while I was indeed surprised, I tried to look at it from his perspective. If this sort of Lareiney, Malicey music isn't what he would really like to do, and we keep playing with a handful of bands who are doing what Yue would actually like to do, he would just end up resenting our music and his fellow bandmates. He's had too much of a good time up until now with us to throw that away by keeping his head down and plowing forward with a style he's not that attached to in the first place.
He and I talked a lot about it, and I tried to encourage him. Even if he just stuck it out for a full year, I said. Finally, he broke the news to Ryota, whose usual taciturnity was thrown by this announcement into something that resembled a vow of silence. But they talked a lot as well and there are absolutely no hard feelings.
I know that may seem hard to believe, like we're trying to put up a brave face, because airing intraband grievances publicly, which I have seen a few Japanese and Western bands do, is supremely tacky. But it's absolutely true. I think everyone's looking for that group of guys and that style that just locks into a groove for them. Most times you find one and not the other. Sometimes the pros outweigh the cons and you stick with it, but I think Yue wanted another shot.
The first live we played after Yue had told us officially, we played with a band called Ray. Ray was going to lose their singer, and their drummer and Yue became friends. They were being produced by a former member of GOZVII, whom Yue had loved and respected. The drummer asked Yue if he would be interested in joining.
Long story short, Yue decided he would join that band. But it wouldn't last very long. Rehearsals were far enough away to require a trip by shinkansen, and because there was a label and actual studio recording/CD pressing involved, not to mention talk of buying a van, the amount of money he would have to invest just to get things rolling was absurd to the point that he would have had to take out a loan. And it just wasn't worth it. He was having a rough time, until he finally had an epiphany one day at rehearsal after talking to me. He quit the new band that day, told me he wasn't going to do music anymore, and seemed very, very happy.
And you know, I'm happy for him. Because now he's returned to the Yue I remember up until he started thinking about leaving this summer.
He made a promise that we were going to make the last few shows great, and so far, we've lived up to that promise. The last several have been quite good, and I'm excited to play our last one.
What will happen to Ryota and I? Well, Ryota's tracking down a drummer first, and then we can worry about vocalists. Hidetora and Narciss are committed to helping us out, and they're suggesting certain bands and certain guys we should chat with. I am grateful for their intentions.
So in the interim, session bands might be in the works. We'll see. That I shouldn't really talk about yet.
Kyuketsuki & friends as well as Bunny came because they're just way too awesome friends.
La Carmina
came again, and this time took wonderful 70's glam/80's goth-esque black-and-white shots.
And once again, here's a truckload of shots I couldn't narrow down because there were tons and I liked a lot of 'em.