Finally, an update of substance!

Our morning started out very punctually; we got to the studio on time, loaded our equipment in our van and made it to Holiday on time. But just before it was our turn to go up for rehearsal, Schwarz realized that we didn't have his pedal board. Calls to the studio were initially unhelpful, which was a further snag, but Shunsuke (bis) let us change out rehearsal time, and we were able to secure the missing equipment. So that took a bit of the wind out of our sails at first.


After our rehearsal, we headed into makeup...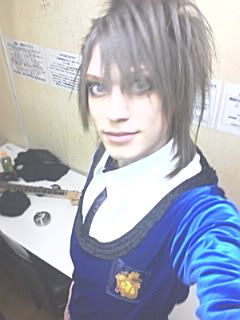 Ta-da! New costumes all around!!
To be honest, I really liked the previous look we were doing so I was initially hesitant to change something I was actually comfortable with, but I'm really pleased with how they've come together.
We two, you can barely tell we're supposed to be in the same band!
As for the live itself... I had some sound problems, by which I mean the sound in the house was fine, but I could barely hear myself on stage. And that leads you to subconsciously play harder than you usually would, which contributes to more mess-ups. Also, somehow we missed a particularly important cue that, admittedly, only we ourselves would know we missed it. And the new costumes are really hot. After we got off stage, we were all rather frustrated with ourselves.
But our lady from Visualive took video and pictures for us, and as we watched it, we realized that it wasn't nearly as bad as it felt up there, and the fans went pretty wild for our new country-blues song that I didn't think would elicit such a crazy response!
Also I don't know that I'll ever get used to a club full of girls screaming "Jimi!!" That still feels weird. :-P
Now, I didn't get any personalized presents, although the rest of the members did. Even so, there was still a lot to go around. Strangely, we received almost nothing but donuts.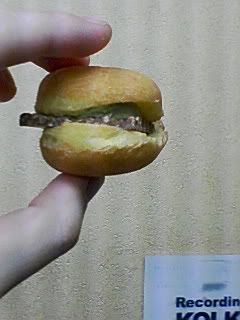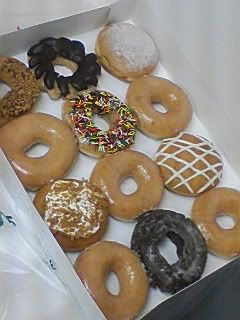 Mister Donuts funky faux-hambuger donuts, and a dozen Krispy Kremes.
This was dinner and it was DELICIOUS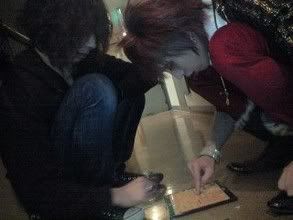 We had to wait a million hours to go on, so we played cards and shogi a whole bunch. A very good idea in hindsight.
Siva's bassist is amazing as you all may know, and he and I bonded over talk of Jaco Pastorius and that made us pretty giddy.
Huge thanks to Shunsuke for putting the event together, to mom (the Japanese one) for having nothing but nice things to say, to mom (the real one) for her surprisingly good memory when it comes to our live schedule, Yuri (Rubik), Yuana (Boogieman/ex-Kagerou), Holiday (for putting us on the cover of this month's Holiday Magazine), Visualive (for interviewing us for the newest issue of
Alive
magazine), all y'all who've said such nice stuff... Surrounded by too many awesome people to count.
Next Saturday, Area; BE THERE or not thats cool too ill understand