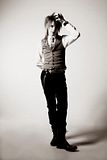 And of course the first email in my jimi.aoma account is from my mom wishing me good luck tomorrow. :3 My mom is awesome.
There's a lot of stuff I want to touch on--wanna give a bigger run-down of the two Tommy albums, the new D, Mucc, Nogod and DRay, the beautiful new ET PV--but I'm going out of my mind with nervousness for the show tomorrow.
And today at work they handed me a "termination of employment" paper--and for a moment I panicked, and then I realized I'd done the same thing last year when I renewed my contract. They just
sprung
it on me though; nothing like "hey so we're giving you a new contract but first sign this terminating the last one". Signed my new contract and now I'm gold.
I'll try to update from location!