Masami, making last-minute changes to our MTR.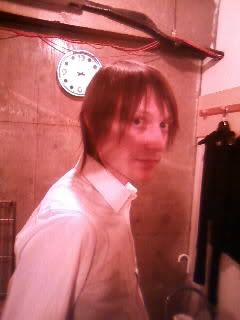 How terrified I look!
We met up a couple of hours before entrance time to get our rental cars, loaded up the equipment, picked up our makeup girl, then tried to get to Mosaic on time. We were only a half-hour late, but even then it was beginning to look like there was no way we'd start the show on time. We dodged the girls doing irimachi, Tenten took their presents, and we headed into makeup.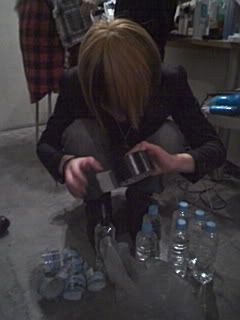 This is our roadie, Uta, in charge of the tedious task of strawifying our stage water bottles.
We had an intense, 2-hour sound check, where we did a lot of fine-tuning, and since it was a one-man, we were able to make very specific requests to the PA girl, who was stellar, and the lighting guy, who was spot-on.
Head into final hair/makeup check and somehow we actually managed to start almost on time!
The set started out with a projector playing a countdown over the Chemical Pictures logo and that pretty guitar piece. As it got to 10, the crowd started counting down along with it. Schwarz's guitar squealed the intro to the heavier intro, and the screen dropped, revealing us in the sparkly sunglasses. Tenten came out in the middle of it and the crowd got even more wild.
Tenten is quite the performer, getting much more involved with the crowd than I've ever seen a vocalist get in this genre. He was pretty worried about me before we went on, just because I seemed so nervous, but to be honest once I get out on the stage I'm perfectly fine.
That said, though, the place was jam-packed to capacity! We had to actually cut down the guest list because tons of people were showing up. It had sold out in January but then they added more tickets and then those sold out too. There were two guys with video cameras on either extreme end of the stage, one foreign photographer from a particular foreign magazine, and fans were squished all the way up to the front. No press pit, no dividing bar, just the stage and then people. Tenten would frequently just seem to walk into the crowd, and they loved it.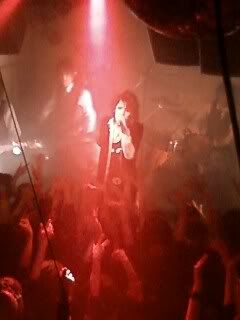 Masami looked like he was having a blast; Joe really stepped into his new crazy character, and Schwarz was smolderingly cool.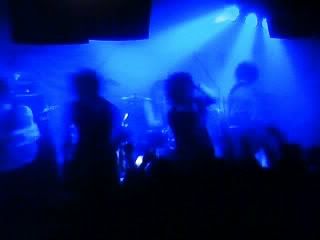 During one of the MC's, Tenten spoke about how he and Joe were from the same hometown. He talked about Masami helping out, he talked about Schwarz being a prodigy, and then he said "and Jimi... well, just look at him, you know what's up." He mentioned my appearances in Tommy's videos and that got them going too. :)
The MC's that night were pretty serious in nature, as it had been quite awhile since his last time on stage. I thought he was a good speaker, which sometimes is not the case with vocalists and MC's.
I have
never
played material as heavy as "In My Dream" or "Suffering" before, and that was such a rush! Everyone was bouncing all around that tiny, tiny stage. At one point Tenten dived into the audience, which felt good to me because there's no way any normal VK venue would have allowed that.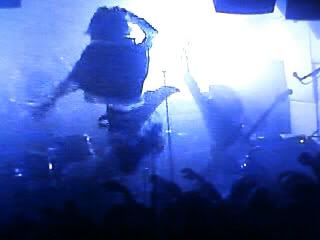 Oh, and I managed to catch a cold THE DAY before the thing, so bad that my voice barely came out. Through various means I managed to be able to sing, but only barely... I really wish I'd been in tip-top shape, but them kids and their germs...!
It was really nice to have hair/makeup staff, goods staff, a house staff, and a roadie for us. Made life so much easier. SO much easier. They were attending our every needs, and it reminded me a lot of my various acting/modeling gigs. I make sure to thank them profusely because they had to endure some of our silly requests.
We sold Polaroids again, this time THIRTY per member, and we had to sign/draw/write on them all. That took a long time too.
Tenten is, obviously, the most popular member, but as the show went on I heard an awful lot of "Jimi!" too. D:
Anyway, after our final song, the call for "encore!" went up almost immediately. We played Radiohead's "Creep" and "Pearl" by The Yellow Monkey.
And then we got called for another encore; we did "Suffering" and "Pureparato" again, and then out.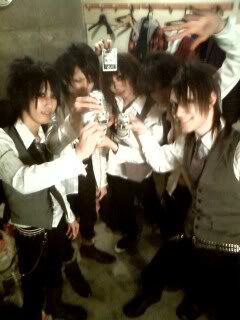 TONS of presents for Tenten, and lots of visitors, many in the shape of other bandmen bringing beer, which we sorely needed at that point! A couple of the guys from Rubik were there to say hello, as was Shunsuke from bis, Mika from Rentrer, and Ruvie's vocalist. The woman who collaborated with Tenten on the jewelry from Vanilla Edge is also the one who did the Flash on our website, and she's wonderful and it's been great to work with her and I was glad to hear the nice things she said about the performance. There were also all sorts of other important-looking people I didn't know and I just smiled and looked cute and said hello and thanks and stuff.

I had just played a two-hour set with no rest and yet I did not feel tired at all; only exhilirated. What a rare feeling. We changed, gathered all our stuff, dodged the demachi, and headed out.


So then here's our next live:


May 16, 2009 (Sat)
"Ishin-Kaiten Vol.17"
Shinjuku HOLIDAY
Open...16:00 Start... 16:30
Adv: 2800 yen, Day: 3300 (+drink)
・Chemical Pictures
・SIVA
・Drop Star shooting (ex.GHOST's Kousei's solo project)
・Gilltia
・PRIMEADDICT
・Aya
・The Vambie
・DRO'LE
Tickets on sale from April 4th at CD HOLIDAY. You can
yoyaku
for any band except ours, apparently, for some reason... I'll figure out why in a coupla days. :)
Also, these live pictures are
awesome
can't wait for you to see them, but it won't be through me! :-*